Reflections – Casa Alitas and the Borderlands
March 12, 2023 One by one, they enter Casa Alitas, dragging large, orange onion bags containing all their belongings, all dressed in the same dark blue paper-like 'scrubs' they were given by Border Patrol. With the exception of women with young families, they have spent the last few days in a detention (prison) camp, a congregate setting, sleeping on a hard floor with foil 'sheets' and eating frozen burritos. Some left home one-two weeks ago, many left home one-two months ago. The majority of them have made their way by foot, van, or air (for those with money to fly) to our southern border where they have stepped onto American soil to claim asylum.
I have tried many times to put myself in the shoes of these guests arriving at Casa Alitas. Would I ever make the decision they have made, leaving their home country and, for many, leaving loved ones behind? In talking with them, they tell me that it was a difficult but necessary choice. Many of them shutter as they talk of armed men knocking at the doors of their homes, demanding money that they may or may not have, holding their children ransom if they don't give what they have. They seek security and freedom from fear. Younger men say they have been told that there are jobs in the United States. They yearn to work so they can send money back to their families. Whenever I feel a hint of feeling sorry for myself, these are the people I think of. It doesn't take long to change me around.
So they come; many, many come, with few possessions, but lots and lots of Hope. And I am so fortunate to be in a position to greet them. As many of you who are reading this know, I am a volunteer at Casa Alitas, the immigrant welcome center in Tucson, AZ. Casa Alitas is here to provide guests a welcome to the United States, an opportunity for a shower, clothes (like those from ORUCC and MMC), and a warm bed and food for a day or so, until arrangements are in place for the next step of their journey to their sponsors.
Radical hospitality!
Guests are greeted at the doors of Casa Alitas with a warm smile, a "Bienvenido," and, yes, a COVID mask. They arrive in groups of 30 or so via a Border Patrol bus. Following a group brief introduction to Casa Alitas, they sit in rows of chairs where they wait their turn to sit at a table across from people like me to do "intake." There aren't many volunteers who are bilingual and available to do intake, so we are in high demand. Of the 100 or so people per day who volunteer at Casa Alitas, I would guess that only 10-15 of us are fluent English-Spanish speakers.
Even though each of us doing intake is gathering the same basic information needed to set up arrangements for food, housing, and travel, I have noticed that each of us has a slightly different approach and way of asking the questions. Mine was inspired by watching my now-friend, UCC Minister Delle McCormick. Think of how our pastors would greet this set of people and marvel at how they seem to find just the right words for the moment. That is what Delle provided for me a number of years ago. I now adapt that to the present.
I know I'm not supposed to do this due to COVID concerns, but I greet everyone with a warm handshake. (Only 1% of our guests tests positive for COVID). I say a silent prayer as I hold their hand. I take a few deep breaths with them and I can feel the release of anxiety. I think they are starting to feel safe. Many break out with warm smiles.
I introduce myself as Ana (Ruthanne is far too difficult for the moment) and ask their name. I show them their name when I enter it into the computer and ask them to check it to make certain it is spelled correctly. This brings another smile – recognition that I know who they are and a sense they can trust me. I explain that I am going to enter information into the computer from their papers so that the people in the next room at the Help Desk will have the information to help them with transportation to their sponsors. They immediately pull out their papers and give them to me. We're on our way!
The 2-3 pages of looseleaf papers that they give me are now their only ID. Their passports had been confiscated and then tossed by Border Patrol. (Yes, I have seen big piles of passports stashed at the border). The first set of information I ask about is very basic: name, DOB, their new ID number, at what entry point they were registered by Border Patrol. And then the more sensitive information: Are you traveling alone? Were you separated from any family members? I show them the dates that they are to appear in court, the first in about two weeks to confirm their presence in the United States, the second in anywhere from 6 months to 3 years for their first opportunity to plead their case for asylum.
Sometimes I have the opportunity to share one of the welcome postcards from our Madison congregations. They thank me in disbelief that people from a place called Wisconsin would be thinking about them! I love asking the men if they are pregnant – I tell them it's a question on the form. This never fails to bring a smile and chuckle to the guys, especially the younger men. One said with a chuckle, "That's the one thing I'm sure about. No, I'm not pregnant!"
I hope I am conveying the emotionality of this moment for these new arrivals. It can certainly be a special moment for me. These moments, especially these initial ones, stand in dramatic contrast to how many have been treated in recent days and weeks. It's hard for me to accept, whether one agrees with an immigration policy or not, why people are not treated with respect and dignity. But that's a topic for another day.
Many people ask me how many guests arrive per day at Casa Alitas. The answer is that, just as in past years, the number of guests varies from day to day. Border Patrol notifies Casa Alitas only about an hour before they drop off a busload of people. On one recent day, we welcomed 175 people; on another day we welcomed 547. When I volunteered here the last time, most people were coming from Venezuela, Colombia, and Cuba. Now the majority are coming from Ecuador, Peru, Nicaragua, and even some from India (I can now do an interview in Punjabi!). There is always at least one busload of Moms with small children. And there is also always one busload of singles, i.e., men traveling alone. And today there was a set of people from Africa, so we were searching for people who could speak French!
After intake, people are asked to go to another area in the room for a COVID test. Nearly everyone tests negative. Those who test positive are immediately isolated and transported to an off-site hotel managed by Catholic Social Services and Casa Alitas staff for a several-day stay. For those who test negative, it's off to the next room for a meal and a visit to the Help Desk, where staff arrange bus and phone travel to their sponsors. Some guests do make their own bus or flight plans, but most wait for help from staff at the Help Desk to find less expensive flights and better connections than doing it on their own. From this point, it's off to my favorite part of the day: taking people to the Tienda de Ropa or clothing area.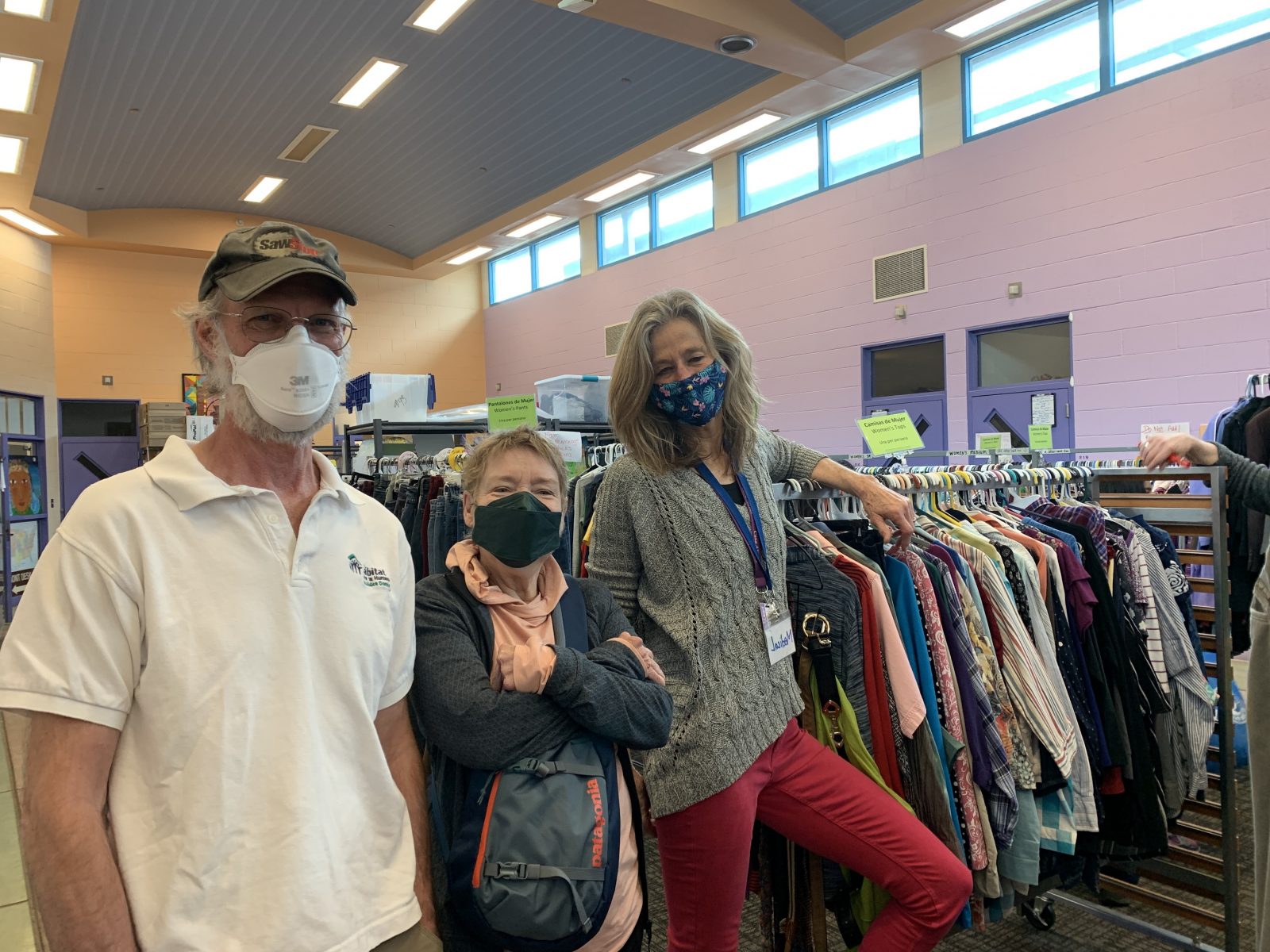 After the rush of intake, I appreciate that I have the liberty to be a "floater" and do whatever needs to be done. Day before yesterday, I met "Shirley" at intake, a lovely young Latina from Colombia making her way to Sacramento, California to join her husband. I saw Shirley sitting alone with her phone and sat down to talk with her.
She so wanted to take a shower. She didn't want to wait for a shower in the hotel room where she would be staying that night. I showed her where she could wait in line. A few minutes later she emerged with her long wet black hair hanging down her back and a big smile on her face. I escorted her to the clothing area. This room is the landing place for the clothes from our Madison congregations.
Shirley's eyes popped at the racks of beautiful clothes. After a short time, she found a pair of pants and a top that she liked. I knew the top would be too short at the midriff but it was clearly what she thought she wanted. She went into the dressing room and tried things on. In a few minutes, she emerged with the top on and a quizzical look on her face. "What do you think about the top," she asked. I decided to respond with a quizzical look, too. It was important that it be her decision. She responded to my look with a question, "Too short?" I said, "Let's find a better one."
We found the perfect top that she tried on and liked. Remember that she was headed to Sacramento. And, sure enough, I looked around and spotted the perfect jacket for her. It was indeed a beautiful jean jacket with embroidered flowers on the front, back, and sleeves. She put it on, and it fit perfectly. Shirley beamed. I said, "It's Miss California!" For those old enough to remember it, in my mind I could hear Bert Parks singing, "There she is! Miss America!" Big smile. Shirley dropped her former travel clothes in a big bin and strolled out the door, carrying herself like a new woman. Showered, dressed, and ready for the next step of her journey. Granted, this all could have occurred at a local Kohl's or Penney's in Madison, but its significance for Shirley at this point and time and place cannot be overestimated.
I'm sure you get a sense of how full the days have been. I've been in Tucson now for over two weeks (although the first days don't count because I was recovering from two 13-hour days of driving). The evenings have been full, too. One of the first evenings was with the Tienda de Ropa volunteers. Peggy Gessner, the person who has met Steve Sheets when he delivers our clothing shipment, sends a shout-out to everyone. Then there was the Casa Alitas community forum the next night, 167 volunteers in attendance, when it was announced that they will be opening a larger center near the current Casa Alitas within the next few weeks. Last night I attended a meeting of the Tucson Samaritans, a group of activists who do "water drops" in the desert areas along the migrant trails. Next week I'll be driving to the border with a Samaritan friend.
And it hasn't been all work, no play. The first weekend I didn't miss the Tucson Jazz Festival, and last weekend was the Tucson Book Festival, largest non-profit festival in the United States, held on the University of Arizona campus. And who did I get to see there but our own Madison-based best-selling author David Maraniss, talking about his new book on Jim Thorpe. This weekend it's down to Sahuarita, AZ with Ann and Mike Kehl for some time at the Good Shepherd UCC coffeehouse with local folk musician, Larry Worster. On Monday, I'm thrilled that my sister Karla and husband Pat, who are vacationing near Phoenix, will be here to visit. And those of you who know me know that I love good food, so I've been keeping some of my favorite Tucson restaurants busy.
And one last personal note. My social network has changed dramatically since the first time I came to volunteer in Tucson six years ago. I came the first time not knowing anyone. Yes, some would call that crazy, I know. But I believed in the humanitarian work of Casa Alitas and felt I could help. Now I am greeted at Casa Alitas with hugs and "so happy to see you again," dinners with friends like Marian who is ORUCC Jill Westberg's cousin, and an actual welcome party organized by friends and colleagues here. Know that people here know of the faith-based justice activities that we do in Madison, and they are with us, as we are with them. When I introduced myself as part of the Mennonite worship service last Sunday, several people greeted me after worship with recognition: "Ah. Welcome! You're with the church that brings clothes to Casa Alitas." I now extend that greeting to you.